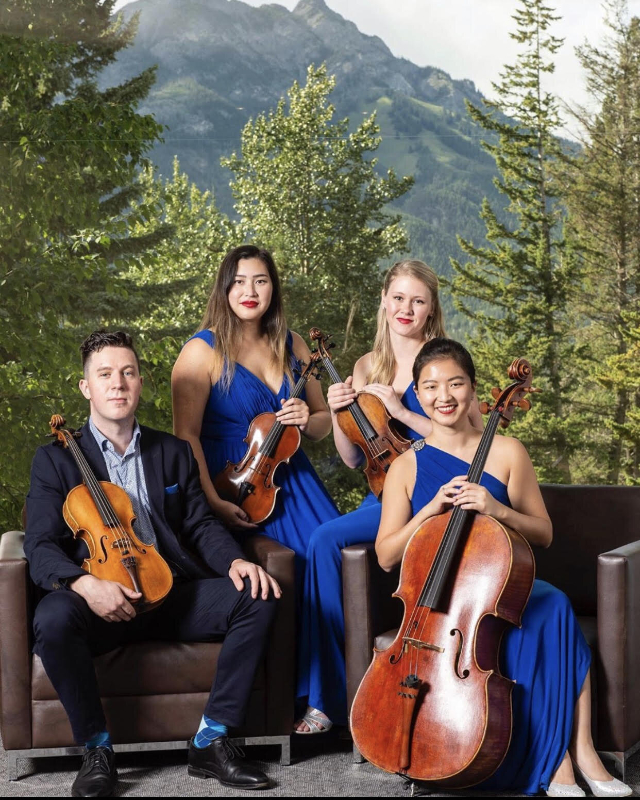 June 20 @ 3:00 pm at Churchill Historic Park District

An outdoor concert at the Churchill Historic Park District
158-170 W Main St., Stamford, New York 12167
The Ulysses String Quartet has been praised for their "textural versatility," "grave beauty" and "the kind of chemistry many quartets long for, but rarely achieve" (The Strad), as well as their "avid enthusiasm … chops to back up their passion" (San Diego Story), "delivered with a blend of exuberance and polished artistry" (The Buffalo News).
Founded in the summer of 2015, the group won the grand prize and gold medal in the senior string division of the 2016 Fischoff National Chamber Music Competition and first prize in the 2018 Schoenfeld International String Competition. In 2017, the quartet finished first in the American Prize and won second prize at the Osaka International Chamber Music Competition. They were winners of the Vietnam International Music Competition in 2019. From 2017 to 2019, Ulysses was in residence at the Louis Moreau Institute in New Orleans, working with composer Morris Rosenzweig.
Continue reading …
Concerts are held every 3rd Sunday, April through November and the 1st Sunday of December.
Due to ongoing COVID-19 concerns for the safety of our artists and concert patrons, and in compliance with restrictions on social activities, some concerts may be cancelled, but in the spirit of optimism we will wait to decide as the dates approach. Please return to this site for the most current information on our schedule.
MASKS REQUIRED
Highlights from the 2020 Season