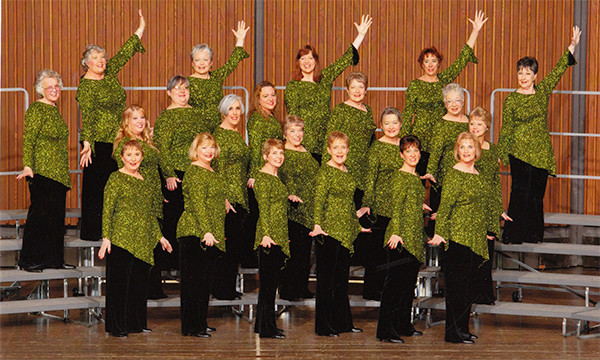 City of the Hills Chorus (left to right, front to back):
Row 1: Jo Melmer, Liz Moeller, Sue Dana-LeViness, Flora Beth Cunningham (Director), Terry Hait, Joanne Burdick
Row 2: Donna Fornito, Karen Adolfsen, Mary Johnson-Butler, Chris Hughes, Elaine Mattice
Row 3: Pat Ashe, Kate Brooker Milano, Jennifer Withington, Dorcas Ross, Jan McGrath
Row 4: Connie Herzig, Linda Allen, Carol Wood, Joy Sanders, Kathy Polley
By popular demand Friends of Music is happy to welcome back the City of the Hills Chorus for the final concert of our 26th season at 3:00 PM on Sunday, December 2, 2012. As in the 2011 Holiday Concert the program will include traditional carols and some contemporary songs interspersed with audience sing-a-longs to get us in the mood for the Holidays we will be celebrating soon afterwards.

The City of the Hills Chorus is a group of area women of all ages and all walks of life who meet once a week because they love to sing four-part harmony in the barbershop style. The chorus and quartets from within the larger group have performed for business and social organizations, nursing homes, Oneonta's First Night and other community events and offer entertainment in the Oneonta/Cooperstown area singing modern show tunes, ragtime toe-tappers, pop tunes, and old favorites.

The Chorus chartered with Sweet Adelines International in 1985. Sweet Adelines is an international organization of women whose purpose is to teach the American folk art of singing four-part harmony in barbershop style, and through performances, to encourage appreciation of the tradition of that music. For more information about the Chorus please visit their Web site.
PLEASE NOTE: Contrary to a misstatement in our press release, admission for this concert is FREE! We apologize for the confusion.

The program for December 2 is as follows (subject to change):
Program
2012 Holiday Concert
City of the Hills Chorus

Happy Together
Over the River
Christmas Chopsticks
Sing-along: Santa Claus is Coming to Town
Four of Hearts Quartet: Angels We Have Heard on High
Sing-long: Play a Simple Melody
Intermission
Rudolph
Sing-along: Little Drummer Boy
SOS
Upscale Quartet: California Dreamin'
Twelve Days After Christmas
Sing-along: Carol Medley
We're All In This Together
Thank you to all of our donors and especially to the Robinson-Broadhurst Foundation and to the A. Lindsay and Olive B. O'Connor Foundation for your generous support which makes this concert possible.