Anna Elashvili, violin
Ben Russell, violin
Nathan Schram, viola
Tomoko Fujita, cello
Continuing our 26th Season, Friends of Music is honored to present the Bryant Park Quartet in performance at 3:00 PM on Sunday, October 21, 2012. The group features Anna Elashvili and Ben Russell, violins; Nathan Schram, viola and Tomoko Fujita, cello. It was through Anna Elashvili, an alumna of the 2011 Silver Jubilee Chamber Ensemble, that we were introduced to the group and we are indeed fortunate that they are willing to play for us in Stamford.
Based in New York City and formed in 2006, the Bryant Park Quartet has developed into an accomplished and acclaimed string quartet. Through its series "The rEvolving Ear," the group has created programs that explore some of the connections between established and contemporary music, programs that inspire new ways to listen to and appreciate historical works that have inspired works by contemporary composers.
The Bryant Park Quartet (BPQ) is also dedicated to extensive community outreach through performance, lecture/demonstrations and a creative approach to music education. They seek to increase "awareness of the value of chamber music" through their commendable commitment to education programs at many levels, from public schools to private universities, and to community from business locations to private homes to public performing arts centers. The audience at this small venue in the Catskills is no doubt the beneficiary of this idealism and commitment.
The Bryant Park Quartet has been coached by members of the Brentano, Borromeo, Cavani, Cleveland, Emerson and Juilliard String Quartets and by such luminaries as Itzhak Perlman, Heidi Castleman, Colin Carr, Kathy Murdock and Roger Tapping.
The BPQ was a 2010 prizewinner in the Hugo Kauder International Music Competition and its members individually are highly regarded as well. Two of its artists, Anna Elashvili and Nathan Schram, were each fellows of The Academy at Carnegie Hall, a joint effort of the Juilliard School, the Weill Music Institute and Carnegie Hall to nurture young musicians at the highest level. The Academy seeks to help the selected exceptionally talented young people develop their careers and thrive in current circumstances while serving as "evangelists" for classical music in order to assure its survival.
Ms. Elashvili became Mr. Schram's Academy mentor, and he joined the BPQ in 2011 when previous violist Adam Meyer became a dean at the Juilliard School. Nathan Schram was featured on National Public Radio reports about The Academy, three times during his first year with the program and again when his two-year term was completed.
See below to read more about the artists of the Bryant Park Quartet on this site, or to read more about the group and its admirable mission and listen to some of their work please visit their Web site at bryantparkquartet.com.
The program for October 21st is listed below.
Program
Bryant Park Quartet
Anna Elashvili, violin
Ben Russell, violin
Nathan Schram, viola
Tomoko Fujita, cello
"Alleged Minimalism"
Scaramella
Mille Regretz
El Grillo
Josquin des Prez
(c. 1450/1455 – 1521)
arr. Bryant Park Quartet
String Quartet in F Minor, Op. 20, No. 5
I. Allegro moderato
II. Menuetto
III. Adagio
IV. Finale: Fuga a due Soggetti
Franz Joseph Haydn
(1732 – 1809)
Selections from: John's Book of Alleged Dances
John Adams
(b. 1947)
Intermission
Structures for String Quartet (1951)
Morton Feldman
(1926 – 1987)
String Quartet in G Minor, Op. 10 (1893)
I. Animé et très décidé
II. Assez vif et bien rythmé
III. Andantino, doucement expressif
IV. Très modéré – En animant peu à peu – Très mouvementé et avec passion (1862-1918)
Claude Debussy
(1862-1918)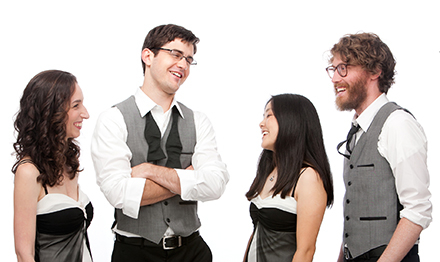 As seems to be in keeping with their philosophy, the group's Web site downplays their individual accomplishments; we hope they will forgive us for lauding each of them separately here as well.
Violinist Anna Elashvili, hailed as "riveting" by the New York Times, has appeared as a soloist and chamber musician in major halls around the world. She has collaborated with renowned artists such as Lynn Harrell, Dawn Upshaw, and Daniel Hope and performed solo with Maxim Vengerov.
In 2006 Ms. Elashvili was nominated to be a fellow at The Academy, a program of Carnegie Hall, The Juilliard School and the Weill Music Institute, a program for which she is now a fellowship mentor and an active alumna. As a part of the Academy family, she performed at Carnegie Hall regularly and brought classical music to New York City's public schools. As an alumna, she has traveled to Mexico, Germany, Canada and around the United States teaching, mentoring (based on The Academy's methods) and performing. She also performed in Iceland and in Japan earlier in 2012.
Ms. Elashvili is the first violinist of the Bryant Park Quartet, currently in residence at Stony Brook University's Community Music Program and performs in the Brooklyn Philharmonic and Carnegie's Zankel Band. She has appeared as concertmaster with the Brooklyn Philharmonic, the Phoenix Symphony, the Verbier Festival Orchestra, String Orchestra of New York City, and the Colorado Music Festival Chamber Orchestra. Ms. Elashvili is on faculty at the Third Street Music School Settlement in Manhattan and taught at the Kinhaven Music School in Vermont this past summer.
As the former member of the Fountain Ensemble and current violinist of the Bryant Park Quartet, she is a prizewinner of several international competitions. She received her Bachelors and Masters Degree by 2001 from The Juilliard School as a student of Masao Kawasaki and Joel Smirnoff. During the summers she has attended festivals including: Tanglewood, Yellow Barn Music Festival, and the Perlman Music Program. In her hometown of Baltimore, she graduated from the Baltimore School for the Arts and Peabody Preparatory's Arts for Talented Youth program where she studied violin and chamber music with Violaine Melançon, Klara Berkovich and the Peabody Trio, as well as composition and dance.
To read more about Ms. Elashvili and hear examples of her work, visit her Web site at www.annaelashvili.com.
Violist Nathan Schram developed his musical skills in different parts of the United States thanks to frequent moves as part of a Navy family. From his initial studies in a Virginia public school, Nathan has gone on to perform at Carnegie Hall, the Kennedy Center, Lincoln Center, Auditorio Nacional of Madrid and the Gran Teatre de Liceu of Barcelona. Other performances include chamber music concerts with Joshua Bell and Atar Arad.
Mr. Schram was a prizewinner at the 2008 Primrose International Viola Competition while a student of Alan deVeritch at Indiana University, and he won first prize at ASTA's 2009 National Solo Competition. Other important musical mentors include Diemut Poppen; Yuval Gotlibovich; Martha Gulyas; Ralf Gothóni; the Orion Quartet; Atar Arad; Mauricio Fuks; Sir Simon Rattle; Janos Starker; Menahem Pressler; Jaime Laredo and Alex Kerr.
In 2012 Nathan Schram completed his second year as a Fellow of The Academy, a program of Carnegie Hall, the Juilliard School and the Weill Institute of Music in partnership with the New York City Department of Education. As an Academy Fellow, Nathan performed frequently throughout the city's leading chamber music venues and he served as the resident teaching artist at Elementary School PS75K in Bushwick, Brooklyn. His experiences at The Academy were documented by radio journalist Jeff Lunden as a 2-year, multipart series for NPR's Weekend Edition.
Also an avid cyclist, Nathan Schram bicycled from Indiana to San Francisco during the summer of 2008.
Ben Russell, violinist, vocalist and songwriter, has an unmistakable passion for music. The Hilly Town Press describes his unique intensity saying, "[Ben Russell], the fiddle player, was like none I've ever seen."
A native of San Diego, Ben moved to New York City in 2006 to form the Bryant Park Quartet. The BPQ is currently Artists in Residence at the Stony Brook Pre-College Division and are represented by Ariel Artists.
In addition to the Bryant Park Quartet, Ben is a member of the American Contemporary Music Ensemble, the Wordless Music Orchestra, and is the Principal 2nd Violinist of the Portland Symphony Orchestra in Maine.
In February of 2012, Ben released his first solo album which you can experience in Bandcamp.
Ben's studies include a Masters degree from the New England Conservatory of Music, a Bachelor's degree from Biola University, and one year at the Amsterdam Conservatory in the Netherlands. All his studies were in violin performance.
To learn more about Mr. Russell and hear examples of his work, visit his Web site at benrussellmusic.com.
Tomoko Fujita is the founding cellist of the Bryant Park Quartet and a musician of wide-ranging interests. Tomoko has presented solo and chamber music recitals at many venues including the Staller Center for the Arts, Alice Tully and Paul Recital Halls of Lincoln Center, the Kosciusko Foundation, and Duncan Recital Hall. Ms. Fujita has recently performed baroque cello in the Boston Early Music Festival and the Naumburg Orchestral Concerts series. An award-winner as a Tanglewood Music Center fellow, she was a member of the New Fromm Players, Tanglewood's contemporary music ensemble-in-residence.
Ms. Fujita is a recipient of numerous honors including The Edgar Feder Award for the Advancement of the Art of the Cello presented by the Violoncello Society, Inc., of New York and the Henri Kohn Memorial Award given by the Tanglewood Music Center. Tomoko Fujita graduated summa cum laude from Rice University with a double degree: Bachelor of Music degree in cello performance as a student of Norman Fischer; and a Bachelor of Arts degree in psychology. A native of Port Jefferson, NY, she earned a Master of Music degree at The Juilliard School while studying with Joel Krosnick and Darrett Adkins, and is currently working with Colin Carr in the Doctor of Musical Arts program at Stony Brook University.
In addition to the Tanglewood Music Center, Tomoko Fujita has participated in the Festival dei Due Mondi in Spoleto, Italy; Le Domaine Forget Academy in Quebec, and the Sarasota and Aspen Music Festivals. Ms. Fujita is currently on the faculty of the Stony Brook University Pre-College Program and the Port Jefferson Music Academy. In addition to teaching at the Stony Brook University Pre-College Program and the Port Jefferson Music Academy, and maintaining a private studio, she has served on the faculty of the Zephyr International Chamber Music Course and Festival in Courmayeur, Italy.