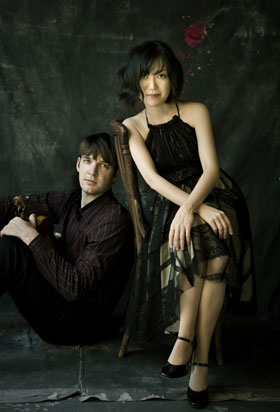 It is with great pleasure that Friends of Music presents Duo Prism at 3PM on Sunday, July 15, 2012, featuring Rieko Aizawa, piano and Jesse Mills, violin.
Anyone who had the great good fortune to hear the Silver Jubilee Chamber Ensemble at Friends of Music's 25th Anniversary concert in June 2011 will never forget Jesse Mills. As concertmaster Mr. Mills organized an amazing group of young artists in an incredibly short amount of time and saved the day, not to mention the special Season, for FoM. We are extremely grateful that he is willing to return to Stamford, this time with his partner – in music and in life – Rieko Aizawa.
According to their Web site,
Duo Prism is a dynamic ensemble committed to the full spectrum of works composed for this instrumentation. The metaphor of a three-sided prism represents the perfectly balanced relationship which these two artists together make with the composers of the works that they present… Duo Prism has a passion for understanding the voice of every composer; they seek to illuminate the music as well as their own joy recreating it.
To read more about Duo Prism and hear examples of their work, see their Web site at duoprism.com.
The program for July 15 is planned as follows:
Program
Sonata for Piano and Violin No. 1 in D major, Op. 12 No. 1 (1798)
Ludwig van Beethoven (1770 – 1827)
I. Allegro con brio
II. Tema con variazioni: Andante con moto
III. Rondo: Allegro
Violin Sonata, Op. 119 (1942-43)
Francis Jean Marcel Poulenc (1899 – 1963)
I. Allegro con fuoco
II. Intermezzo: Très lent et calme
III. Presto tragico
Intermission
Selections from Night Music
Ned Rorem (1923 – )
Gnats
The Two moths
Sonata No. 3 in c minor, Op. 45 (1886-87)
Edvard Grieg (1843 – 1907)
I. Allegro molto ed Appassionato
II. Allegretto espressivo alla Romanza
III. Allegro animato
Duo Prism
Based in New York City, Duo Prism was formed in 2005 and has performed "the vast traditional repertoire" as well as works by contemporary composers throughout the United States and internationally. Duo Prism won First Prize at the Gaetano Zinetti International Chamber Music Competition in Verona, Italy in May of 2006; they returned to tour Northern Italy the following year.
In September, 2008 Duo Prism performed Theme and Variations in a Composer Portrait performance at Columbia University's Miller Theater in New York City, having worked closely with composer Peter Lieberson. In 2010 Ms. Aizawa and Mr. Mills became artistic directors of the Alpenglow Chamber Music Festival in Colorado. They are in the process of performing the complete sonatas by Beethoven and they continue to commission new works as well.
Both Aizawa and Mills are graduates of the Juilliard School; both are founding members of the Horszowski Trio, and both are on the faculty at Montclair State University in New Jersey.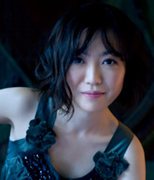 The New York Times has lauded Rieko Aizawa for her "impressive musicality, a crisp touch and expressive phrasing." A native of Japan, Ms. Aizawa began her career with a US debut at the age of fourteen at the Kennedy Center and at Carnegie Hall with the New York String Orchestra conducted by Alexander Schneider. Since then she has performed as a soloist and with orchestras in the major halls of North America, Europe and Japan and as a guest pianist with highly-regarded chamber groups including the Guarneri, Orion and Shanghai String Quartets. She has also participated in many music events including the Marlboro, Evian, Caramoor, Mostly Mozart and Ravinia Festivals.
In March, 2005 the Altus Music label released Ms. Aizawa's first solo recording of 24 Preludes by Shostakovich and Scriabin. Her second album, a recording of preludes by Messiaen and Faure will be released in 2012.
Rieko Aizawa was the last pupil of Mieczyslaw Horszowski at the Curtis Institute in Philadelphia. She also studied with Seymour Lipkin and Peter Serkin and earned her Master's Degree from at the Juilliard School. To read more about her impressive career and hear more of her work visit her Web site at riekoaizawa.com.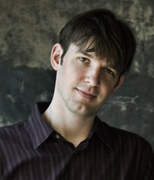 Violinist Jesse Mills performs music from classical to contemporary genres; he is known as a pioneer of contemporary works, as a renowned improvisational artist and as a composer. Mr. Mills earned two Grammy nominations for his work on CDs of Arnold Schoenberg's music, released by NAXOS in 2005 and 2010. He has made recordings on the Naxos, Koch, Centaur Records, Tzadik, Max Jazz and Verve labels.
The Ravinia Festival Orchestra conducted by Nicholas McGegan debuted Jesse Mills' concerto in 2004. With Mills as violin soloist the concerto combined a classical performance of Vivaldi's Four Seasons with a Salsa band arrangement of the same work featuring improvisational solos by Mr. Mills and Salsa trombonist Jimmy Bosch. The debut led to further performances with Symphonies in Phoenix, Colorado and Green Bay.
Mr. Mills has performed as a soloist with many orchestras and as a chamber musician at major venues and festivals throughout the US and in Europe.
Jesse Mills began violin studies at age three. In 2001 he earned a Bachelor of Music degree from The Juilliard School, where he studied with Dorothy DeLay, Robert Mann and Itzhak Perlman. To learn more about this versatile artist and to hear more of his work visit his Web site at jesse-mills.com.