Concerts are held every 3rd Sunday, April through November and the 1st Sunday of December.
Due to ongoing COVID-19 concerns for the safety of our artists and concert patrons, and in compliance with restrictions on social activities, we anticipate additional concerts will be cancelled, but in the spirit of optimism we will wait to decide as the dates approach. Please return to this site for the most current information on our schedule.

Invoke Multi-String Quartet
August 15, 2021
@
3:00 pm
–
5:00 pm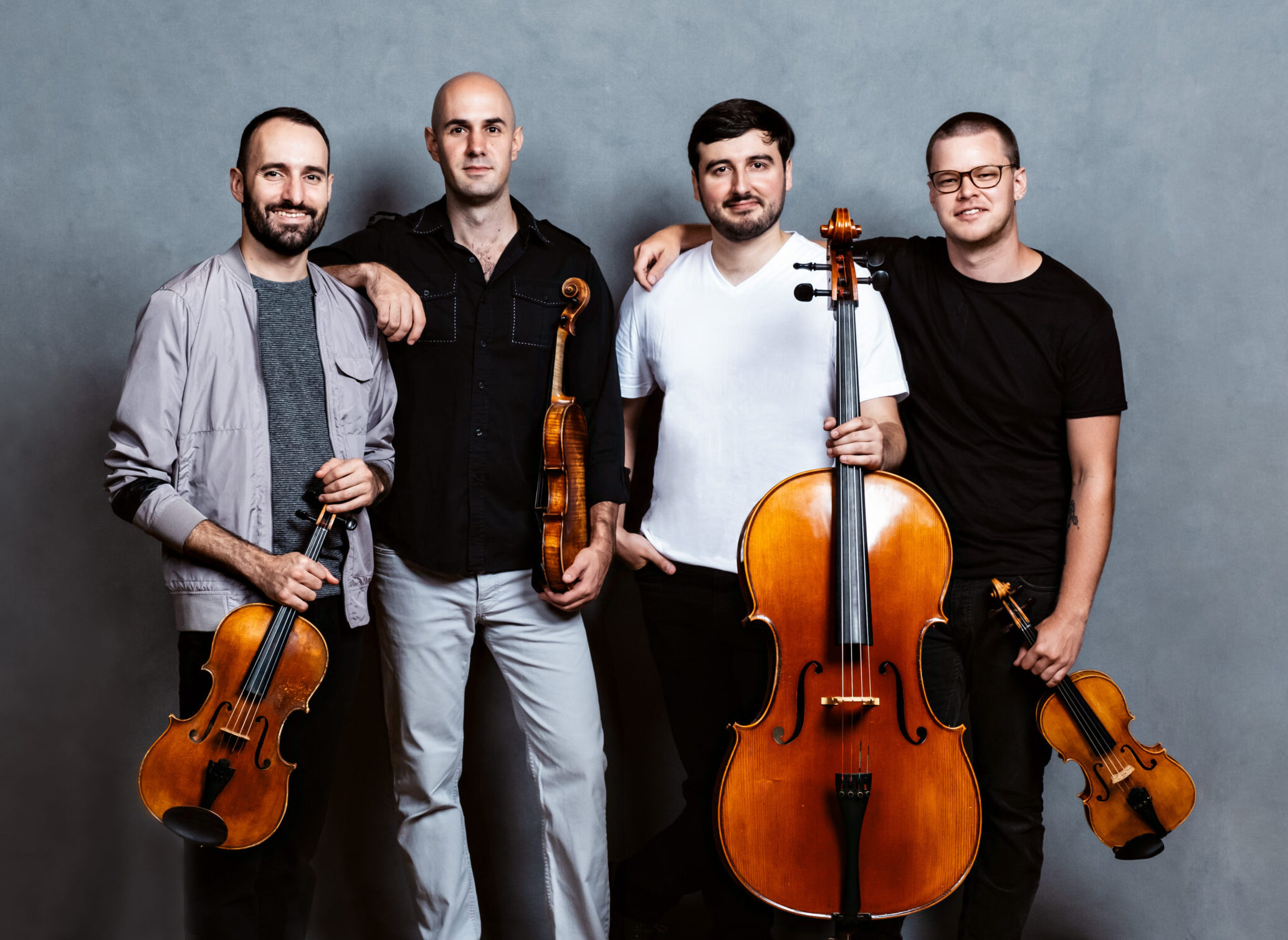 August 15 @ 3:00 pm at Rexmere Park
An outdoor concert at the Churchill Historic Park District
158-170 W Main St., Stamford, New York 12167
RESERVATIONS RECOMMENDED as tent seating is limited; walk-ups will want to bring a lawn chair and arrive early to sign in.
E-mail: FOMAdmin@friendsmusic.org
Phone#: 518.918.8003
Masks required under the tent & social distancing encouraged.
Rain or shine.
In-person donations welcome.
WSKG interview with bandmember Zach Matteson
"…versatile and musically adventurous, way more than classical…" – Capital Gazette
"If the goal was to make classical music relevant, it couldn't have proven the point any more clearly." – Columbia Free Times
Nick Montopoli – violin, banjo, vocals
Zach Matteson – violin, vocals
Karl Mitze – viola, mandolin, vocals
Geoff Manyin – cello, vocals
Described by one pretty important radio guy as "It's not classical but it's not, not classical – Invoke is beautiful, adventurous, American and immediately engaging" (David Srebnik, SiriusXM Classical Producer), Invoke continues to successfully dodge even the most valiant attempts at genre classification. The multi-instrumental quartet's other not-nots encompass traditions from across America, including bluegrass, Appalachian fiddle tunes, jazz, and minimalism. Fueled by their passion for storytelling, Invoke weaves all of these styles together to form a unique contemporary repertoire, featuring original works composed by and for the group.
Most recently the Young Professional String Quartet in Residence at the University of Texas at Austin, Invoke has also participated in the Emerging String Quartet Program at Stanford, and been selected as Artist in Residence at Strathmore, the Emerging Young Artist Quartet at Interlochen, and the Fellowship String Quartet at Wintergreen Performing Arts. In 2018, the group was named a winner of the Concert Artists Guild Victor Elmaleh Competition in New York, New York, and won First Prize in the Open Category of the international chamber-arts competition M-Prize, in Ann Arbor, Michigan, as well as First Prize in the Coltman Competition in Austin, Texas.
Invoke has shared the stage with some of the most acclaimed chamber groups in the country, including the Ensō Quartet and the U.S. Army Field Band. Other professional highlights include performing in Carnegie Hall's Weill Recital Hall in New York as part of the YPCA program at the APAP conference, a concerto appearance with the Brevard Sinfonia, a weeklong residency at the Stanford Pre-Collegiate Institute, and concerts as part of the NextNOW Festival at University of Maryland and Festival Amadeus in Montana.
Their 2015 debut release Souls in the Mud begins with original works that conjure images of America, including the fast-paced opening track "Travesty" and "The Trace" (inspired by bourbon whiskey). The third and title track, "Souls in the Mud," is an American transformation of a 16th century motet featuring banjo, mandolin and a bluegrass-influenced boot-stompin' finale. To round out the EP, Invoke accompanies a historic recording of a haunting traditional English ballad, and finishes with two compositions by prolific American composer Danny Clay.
Invoke's second EP Furious Creek, released in Fall 2018, is their first record to include vocals. The title track explores the relationship between humanity and nature with an evocative chant bookending energetic instrumental interludes. A fast-paced tune, "Dogs," spotlights the banjo with a finger-picking, bluegrass-inspired undertow, and Karl's elegiac setting of the Walt Whitman, "O Captain! My Captain!" features Nick's recitation. The EP wouldn't be complete without a fan favorite closing number, Invoke's arrangement of the Stephen Foster classic, "Hard Times."
Besides performing original music, Invoke believes in championing diverse American voices through new music. Invoke's ongoing commissioning project, entitled American Postcards, asks composers to pick a time and place in American history and tell its story through Invoke's unique artistry.