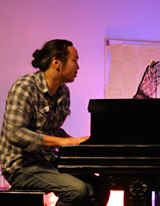 Join us on Sunday, June 17 at 3PM as Friends of Music presents its second-ever jazz concert, featuring a jazz piano trio organized by Clovis Nicolas, bass.
Those who heard our first jazz concert in September 2011 will remember Mr. Nicolas, and we are pleased he will be joined this year by John Chin on piano and drummer Kenny Washington.
The program for June 17 is currently planned as follows:
Around the World with Jazz Standards
Broadway Woods/Bird/McCrae
On a Slow Boat to China Frank Loesser
A Night in Tunisia Dizzy Gillespie
April in Paris Vernon Duke
Girl from Ipanema A.C. Jobim
Serenade to Sweden Duke Ellington
Foggy Day (in London Town) G & I Gershwin
Autumn in New York Vernon Duke
Jazz Piano Trio
One of the many young hard-bop revivalists to arrive on the scene in the late '70s and early '80s, drummer Kenneth "Kenny" Washington has been in particular demand by much older musicians, playing with such legendary veterans as Lee Konitz, Betty Carter, Johnny Griffin, Dizzy Gillespie, Clark Terry, and Tommy Flanagan.
Born in Brooklyn, Kenny Washington studied with the former Dizzy Gillespie drummer Rudy Collins and attended New York's LaGuardia High School for Music & Art.
Mr. Washington worked with Konitz while still in his teens, recording with the saxophonist's nonet in 1977. He worked with Carter from 1978-9 and Griffin from 1980. A prolific freelancer, Washington has compiled an enormous discography, performing on dozens of sessions by many of jazz's most prominent figures.
Kenny Washington has a strong interest in jazz history; he has written liner notes for and/or helped prepare classic jazz re-releases by Art Blakey and Count Basie, among others. Mr. Washington also worked as an announcer at the New Jersey jazz radio station WBGO and taught jazz drumming at the New School in New York City. He currently teaches at the Juilliard School, and we are honored and thrilled that he will perform in Stamford with Mr. Nicolas and Mr. Chin.
Clovis Nicolas dedicated himself to music when he first picked up the upright bass as a teenager and studied classical music with Mr. Joseph Fabre. After graduating from Conservatoire of Marseilles, France, he moved to Paris where he gained a solid reputation for his precise and tasteful bass playing and established himself as a first call musician. During this time he performed and recorded alongside artists such as Ernie Watts, Frank Morgan, Michel Legrand, Brad Mehldau, Michelle Hendricks, Stefano Di Battista, Dee Dee Bridgewater and Andre Ceccarelli, to name a few. Clovis participated in more than fifteen critically acclaimed recordings including Belmondo's Hymne au Soleil which won three Jazz Grammy Awards in 2004 and sold more than 20,000 copies, and Baptiste Trotignon's Sightseeing which received Best Album of the Year 2001 from Jazzman Magazine.
Mr. Nicolas moved to New York in 2002 and since then he has shared the stage in numerous venues such as Jazz Standard, Smalls, 55 Bar, Kennedy Center, Smoke, Jazz Gallery, Birdland and Alice Tully Hall with some of today's most prominent jazz musicians including Grant Stewart, Harry Allen, Benny Powell, Curtis Fuller, Branford Marsalis, James Williams, Peter Bernstein, Joe Magnarelli, Sacha Perry, Sachal Vasandani, Simon Shaheen, Carl Allen, Jane Monheit and Dan Nimmer. He is featured on Josh Brown's recording The Feeling of Jazz, as well as on new alto sensation Dmitry Baevsky's Some Other Spring featuring guitarist Joe Cohn. Clovis Nicolas is currently studying with legendary bass player Sir Ron Carter in the Juilliard Jazz Program in New York and has been touring extensively for performances and master classes in South America.
John Chin, born in Seoul, Korea and raised in Los Angeles, was introduced to the piano at age four. He began learning Jazz at California State University at the age of fourteen as part of a prestigious Early Entrance Program for gifted students. After performing in Los Angeles and receiving his B.A. in music at nineteen, John continued his musical studies at the University of North Texas where he actively performed in the Dallas/Ft. Worth area. Mr. Chin then moved to the New York area and earned his Masters of Music degree from Rutgers University in 1999 after studying as Kenny Barron's protégé. In 2011 John graduated from the Juilliard School as part of the prestigious Artist Diploma program.
A piano teacher since 1994, John's pedagogical experiences range from teaching classes and private instruction at Rutgers University as one of the institution's youngest instructors, to introducing the piano to children as young as four years old as a faculty member of Staten Island Academy's Music Department. Establishing his reputation worldwide as an exciting and sophisticated soloist and a skilled bandleader, John's regular performances throughout New York City have entertained audiences for over a decade. In New York, Mr. Chin has worked with such musicians as Ron Carter, Joe Chambers, Benny Golson, Mark Turner, and Vincent Herring and some of the many musicians the trio has featured are Gregory Hutchinson, Ari Hoenig, Ugonna Okegwo, Donny McCaslin, John Ellis, and Joel Frahm. His critically acclaimed recording Blackout Conception is available on the Fresh Sound/New Talent label. For more information visit his Web site at www.johnchin.com.