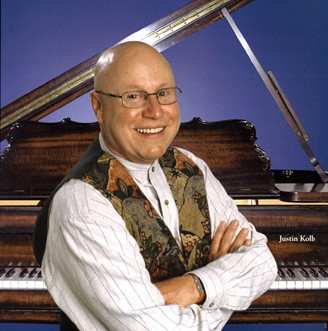 For the eighth concert and the final classical chamber performance of our 2012 Season, Friends of Music is happy to welcome back Justin Kolb, piano. Mr. Kolb usually includes lively and humorous commentary in his programs, which keeps the audience engaged regardless of their musical tastes. The program for this concert — as he often likes to do — includes the music of Franz Liszt and works by living American composers.
Nationally Mr. Kolb serves on the Board of Directors of the American Liszt Society. In our region he is highly regarded as an Honorary Director of the Belleayre Music Festival in Highmount, New York and for the key role he plays in organizing the Phoenicia International Festival of the Voice. He also serves as artist-in-residence for Kids in the Kaatskills, a charitable foundation.
As an educator Justin Kolb notes that "Music education of young people is a short cut to intellectual development and the key to a happy life." His favorite topic of conversation involves "the innate entrepreneurism of musicians," which we have observed first-hand with virtually all of the artists who perform in the Friends of Music series.

Mr. Kolb began his piano studies at age four and soon became a student of Francis Clark and Lillian Whitaker DeCamp. He made his concert debut at the age of ten in solo performances with the Chicago Symphony Orchestra and the Gary Symphony. At DePaul University, Kolb studied with Herman Shapiro, Alexander Tcherepnine, and Paul Stacevich; he has since received the University's Distinguished Alumni Award.

While serving in the Army, Justin Kolb was named a cultural ambassador by the State Department and toured throughout Europe and the Middle East. He has studied with Rolf Beyer in Germany and with Gui Mombaerts, Martin Canin, and German Diez. Justin cites German Diez (once a teaching assistant of Claudio Arrau) as his most important musical influence. The master pedagogue is Kolb's close friend, mentor and teacher of 20 years and is his artistic advisor.

Justin Kolb has graciously agreed to allow Friends of Music to dedicate his concert to the memory of David Caddis. Years ago when Mr. Caddis was president of this organization he engaged Mr. Kolb for his first performance in Stamford. It therefore seems elegant and appropriate to celebrate in this particular performance the dedication of both men to music in general and the relationship they had to Friends of Music and to each other, which are inextricably linked.

To read more about the artist please visit his Web site at www.justinkolb.com.
Program
Liszt and the Barefoot Carmelite
Revised 11/13/2012
Apparitions – Franz Liszt
Senza lentezza quasi allegretto
Vivamente
Fantaisie sur une valse de Schubert
Capriccio – Hermann Cohen
Costa Diva from the Opera "Norma" – Bellini/Cohen
On Wings of Song – Mendelssohn/Liszt
Dance of the Gnomes – Franz Liszt
Intermission
Preludes – Joseph Hudson
January Snow
Shawangunk Mountain Vista

Tango quasi una Fantasia – Robert Cucinotta

Alborada del Gracioso – Maurice Ravel