For the sixth concert of our 2012 Season, Friends of Music is happy to welcome back Katie Thomas, violin, another alumna of the beloved 2011 Silver Jubilee Chamber Ensemble. Joining her this year will be pianist Yoni Levyatov. Colorful and vibrant, this dynamic duo has been touring individually far and wide recently and we are so grateful they are willing to travel to the Catskills to play for us in Stamford. Their program will no doubt result in a beautifully memorable performance: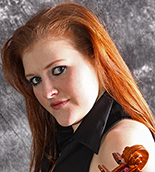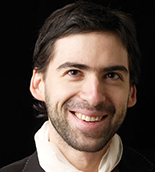 Program:
Katie Thomas, violin
Yoni Levyatov, piano
Sonata No. 18 for Violin and Piano in G Major, K.301 (1778)
Wolfgang Amadeus Mozart (1756 – 1791)
I. Allegro con spirito
II. Allegro
Sonata in A Major for Violin and Piano (1886)
César Franck (1822-90)
I. Allegretto ben moderato
II. Allegro
III. Recitativo-Fantasia: Ben moderato
IV. Allegretto poco mosso
Intermission
Romance for Violin and Piano, Opus 23 (1893)
Amy Beach (1867-1944)
Violin Sonata No. 5 in F Major, Opus 24, "Spring" (1801)
Ludwig van Beethoven (1770-1827)
I. Allegro
II. Adagio molto espressivo
III. Scherzo: Allegro molto
IV. Rondo: Allegro ma non troppo
Scherzo in C for Violin and Piano ("F.A.E Sonata") (1853)
Johannes Brahms (1833-1897)
As an avid chamber musician and soloist, the versatility of Katie Thomas, violin, has placed her on stage in concert halls including Carnegie and Merkin in the United States as well as venues in Europe and the Dominican Republic.
Katie Thomas earned a Bachelor of Music and Master of Music degree from the Manhattan School of Music under the tutelage of Lucie Robert. There Ms. Thomas was awarded the School of Music Merit Scholarship and The Hugo Kortschak Award for outstanding achievement in chamber music. For the Inaugural Amateur Chamber Musicians Festival at Manhattan School of Music, Ms. Thomas took the role as an assistant chamber coach.
While at Manhattan School of Music, she earned great praise from concert reviewer Manly Romero for her leadership as concertmaster of the school's Jazz Philharmonic. As he stated,
Just left of downstage center, one musician, Concertmaster Katherine Thomas, focusing the sound of the orchestra, fighting the tide, and delivering solo phrase after solo phrase with thoughtful integrity enough for a Brahms Concerto……Magnetically drawn to follow Ms Thomas' example, the strings presented unusual warmth and calm. Friday night, Ms Thomas was in control, and her leadership transformed the performance.
In addition to her orchestral engagements, Ms. Thomas was recently a member of the 8vo. Festival Musical De San Domingo orchestra where she collaborated with artists Sarah Chang, Igor Tchetuev, and Michel Camilo. She was also invited to join the Youth Orchestra of the Americas where she shared the stage with Joshua Bell and Julian Rachlin under the direction of Valery Gergiev and Carlos Minguel Prieto.
Ms. Thomas recently subbed with the North Carolina Symphony and also regularly performs with the Dominican Republic's National Symphony. In spring 2013 she will be performing Vivaldi's Four Seasons as soloist with the Elon University Orchestra in North Carolina.
Israeli pianist and composer Yoni Levyatov is a gifted musician with a touch of the flamboyant. Mr. Levyatov made his New York concerto debut in 2005 as the winner of the Dora Zaslavsky Koch Competition performing the Schumann Piano Concerto under the baton of Philippe Entremont at Alice Tully Hall in Lincoln Center. In reviewing that recital Allan Kozinn of The New York Times said "the performance as a whole had an appealing electricity." He also performed the Schumann Piano Concerto in his Israeli debut with the Jerusalem Symphony Orchestra under conductor Marek Piarowski, and he was subsequently featured in a rare performance of the Rachmaninoff Concerto No.4 with the same orchestra under the baton of Leos Svarosvky.
Mr. Levyatov received the Dorothy McKenzie Artist Recognition Award, NY in both 2001 and 2004 and the Harold Bauer Award, NY in 2005 and 2006. In 2008 he was the silver medalist at the International Bosendorfer Piano Competition, and in 2011 he won the Gold Medal at the International Russian Music Piano Competition in San Jose, California. Yoni Levyatov was awarded the Clairmont Prize, Tel Aviv in 2003 and has been a recipient of the America-Israel Cultural Foundation scholarship since 1990.
Recent appearances have included performances at Steinway Hall, Barge Music, the United Nations and the Prestige Series of the International Keyboard Institute & Festival at the Mannes School of Music in New York City; Menora Hall in Manchester, England; Philharmonic Hall in St. Petersburg, Russia; Spiegelsaal in Rheinsberg, Germany; Auditorium de Cajacanarias in Tenerife, Spain; and the Jerusalem Music Center and Tel Aviv Museum of Arts in Israel. In February 2012 Mr. Levyatov completed a concert tour of Alaska performing at the Alaska Airlines Winter Classics presented by the Sitka Music Festival.
Yoni Levyatov has also taken part in master classes with Earl Wild, Peter Frankl, Emmanuel Ax, Ruth Laredo, György Sandor, David Dubal, Menahem Pressler, Charles Rosen, and Alicia de Larrocha. Past teachers have included Harvey Wedeen, Jerome Rose, Constance Keene, Solomon Mikowsky, Alexander Volkov and Lili Dorfman. Born in St. Petersburg, his mother a pianist and his father a choral director, Mr. Levyatov went on to pursue piano studies at the Manhattan School of Music where he graduated in 2005.