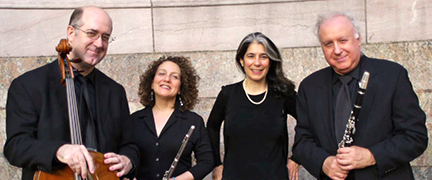 Lisa Arkis, flute
Monte Morgenstern, clarinet
Peter Prosser, cello
Mary Jo Pagano, piano
Friends of Music continues its 26th Season with a performance by Serio Divertimenti at 3PM on Sunday, August 19, 2012. The group features Monte Morgenstern, clarinet; Lisa Arkis, flute; Peter Prosser, cello and Mary Jo Pagano, piano.
Serio Divertimenti, roughly translated, means "serious fun." These seasoned professionals are serious about their art, and those of us in the audience will have a seriously good time listening to the results of their collaboration!
This chamber music ensemble "promotes new music as well as the more traditional classics." Its members have impressive careers of performance in the concert hall, in the theater, and in the recording studio. As many do who make their living from their musical talent, several of them also teach. Broadway and pop music fans will also find many recognizable names in the list of talented artists these musicians have worked with.
The program for August 19 will be a bit more eclectic than our usual presentations, and the approach these musicians take may be more palatable for those who think they don't like classical music. For those who already love it, this concert may be the perfect opportunity to introduce it to friends and loved ones who perhaps have never experienced a live chamber music performance by talented professionals.
Mr. Morgenstern provided excellent program notes which are included below.
Program
The Shaker Tune (Simple Gifts) (2009)
Monte Morgenstern (after Joseph Brackett)
flute, clarinet and cello
L'Encore (ca. 1898 – 1904)
Victor Herbert (1859 – 1924)
Waltz (from the film The Return of Maxim Op. 45, 1936)
Dmitri Shostakovich (1906 – 1975) arr. Levon Atovmian
flute, clarinet, piano
Trio for Flute, Cello and Piano (1944)
Bohuslav Martinu (1890 – 1959)
Poco Allegretto
Adagio
Andante – Allegretto scherzando
Intermission
Dance of the Sea Turtles (2010)
Monte Morgenstern
flute, clarinet, cello, piano
Trio for Clarinet, Cello and Piano in E-flat major, Op. 38
(1803; published 1805)
Ludwig van Beethoven (1770 – 1827)
Adagio; Allegro con brio
Adagio cantabile
Andante con moto alla marcia: Presto
Possible encore:
Mosulipe Blues (A Blues Endeavor for Classical Musicians) (2008)
Monte Morgenstern
flute, clarinet, cello, piano
Program Notes
As provided by Mr. Monte Morgenstern.
Simple Gifts is probably one of the most well known American tunes. It has often been, erroneously, referred to as an anonymous Shaker hymn or work song but is actually a dance song. The words "turn" and "turning" in the last two lines have been identified as dance instructions.
'Tis the gift to be simple, 'tis the gift to be free
'Tis the gift to come down where we ought to be,
And when we find ourselves in the place just right,
'Twill be in the valley of love and delight.
When true simplicity is gain'd,
To bow and to bend we shan't be asham'd,
To turn, turn will be our delight,
Till by turning, turning we come 'round right.
The song was written in 1848 by Elder Joseph Brackett (1797-1882) while he was at the Shaker community in Alfred, Maine. It was largely unknown outside the Shaker communities until Aaron Copland used it in his ballet Appalachian Spring (1944). The song has been adapted or arranged many times by musicians of various genres. These include the English songwriter Sydney Carter who used it in his Lord of the Dance (1963), folksinger Judy Collins in her 1970 album Whales & Nightingales, and being used as the opening theme for the CBS News television series, CBS Reports. John Williams wrote a version called "Air and Simple Gifts," which was premiered at President Obama's inauguration on January 21, 2009.
Although the tune has been slightly altered during its history, the version in today's concert, for flute, clarinet and cello, is based on the original melody written by Joseph Brackett. The opening and closing sections are a more contemporary sounding version of the tune. The middle section consists of several variations based on the melody and is introduced by the flute.
Victor August Herbert (February 1, 1859 – May 26, 1924) was an Irish-born, German-raised American composer, cellist and conductor. Although Herbert enjoyed important careers as a cello soloist and conductor, he is best known for composing many successful operettas that premiered on Broadway from the 1890s to World War I. He was also prominent among the tin pan alley composers and was later a founder of the American Society of Composers, Authors, and Publishers (ASCAP). A prolific composer, Herbert produced two operas, a cantata, 43 operettas, incidental music to 10 plays, 31 compositions for orchestra, nine band compositions, nine cello compositions, five violin compositions with piano or orchestra, 22 piano compositions and numerous songs, choral compositions and orchestrations of works by other composers, among other music. Among his most famous operettas were Babes in Toyland (1903) and Naughty Marietta (1910).
L'Encore was composed sometime during Victor Herbert's tenure as conductor of the Pittsburgh Orchestra (fall of 1898 to early spring of 1904), specifically for his very talented first chair flutist and clarinetist. It was a very rare occasion for Herbert's ensembles, (Gilmore's Band, the Pittsburgh Orchestra and eventually, The Victor Herbert Orchestra) when audiences did not demand encores. The Victor Herbert Orchestra encore books (four different complete sets still in existence in the Library of Congress) contain 85 separate pieces of music kept in individual books under the seats of each musician to be at the ready at a moment's notice. (This despite the fact that Herbert's players were very proud of the fact that they could play almost any of his encores from memory). Later "L'Encore" would be one of the earliest cylinder recordings Herbert chose to make in 1910 for Thomas A. Edison's National Phonograph Company of Orange, New Jersey. That choice alone would place it among Herbert's personal favorite works. Interestingly, "L'Encore" was not published until the recording was made. Victor Herbert – even before his founding of ASCAP – knew how to protect his work. We do know about one performance, which took place on April 25th, 1909. The Evening Post on Saturday, April 24, 1909 wrote that "Victor Herbert and his orchestra will give their third concert at the New York Theatre tomorrow night………there will be a full compliment of Mr. Herbert's own work, including his 'L'Encore,' a duo for flute and clarinet."
Our thanks to Alyce Mott, VHSource, LLC, and Rick Benjamin of the Paragon Ragtime Orchestra for their valuable information about L'Encore.
The Waltz, by Dmitri Shostakovich, is from the film Maxim's Return, the second of the Maxim trilogy by directors Grigori Kozintsev and Leonid Trauberg. This was the first film score undertook by Shostakovich after he was condemned by the Communist Party on the front page of Pravda on January 28, 1936. Prior to this, he had used his earnings from film work to augment his income. But, by the summer of 1936, performances of Shostakovich music had all but ceased and his income had become drastically reduced. Thus, Shostakovich took on the music of Maxim's Return not only because he enjoyed working for the directors (in addition to Maxim's Youth, Shostakovich had previously scored their The New Babylon in 1929) but because he needed the money. He spent much of late summer in Odessa as musical supervisor for the film and later turned in a score for the completed work.
The arrangement for flute, clarinet and piano (and also the orchestral suites created from the film music) was by Levon Atovmian, who was a friend and admirer of Shostakovich.
Trio for Flute, Cello and Piano. The Czech Bohuslav Martinu's earliest ambitions were as a violinist, however after exposure to the rigid discipline expected of him as a student at the Prague Conservatory he was expelled — a fact which didn't keep him from securing a job as a violinist with the Czech Philharmonic Orchestra. In 1923 he moved to Paris where as a fledgling composer was taken under the wing of Albert Roussel. A supporter of the Czech resistance at the outbreak of World War II Martinu was forced to flee as the Germans advanced on the French capital, settling in the United States in 1941. With prospects dim, his professional rescue came in the form of a commission from Serge Koussevitsky, music director of the Boston Symphony, for whom he wrote his Symphony #3. That same summer of 1944 brought the Trio for flute, cello and piano.
What must have been a rebirth of optimism for him pervades the outer movements of this work in particular, abounding with good cheer. The adagio at the center of the piece is awash in yearning melancholy; perhaps a sad reflection on what has been left behind. Virgil Thomson wrote of the piece that it "is a gem of bright sound and cheerful sentiment. It is tonally perfect, it sounds well, it feels good; it is clearly the work of a fine jewelry maker and it does not sound like other music." The use of Czech folk music influences set in a neoclassic structure show a composer relatively untouched by the dramatic musical experimentation going on all around him.
The Dance of the Sea Turtles, by Monte Morgenstern, is a descriptive piece of music meant as a tribute to this endangered species, but in a whimsical way. It describes a "day in the life" of a group of sea turtles, obviously not based on any sort of reality. The form is basically an A-B-A form, where the two "A" sections are similar and surround a contrasting "B" section. The music begins by depicting a group of turtles dancing and having a good time. A brief slow section, for only flute, clarinet and cello describes them resting after all that activity. Then suddenly, one of the turtles gets up and begins singing music that might resemble an aria from an Italian opera. The others slowly wake up and resume the festivities until the end, when they all drop from exhaustion.
Beethoven's Trio for clarinet, cello and piano, op. 38, was originally written in 1799 and 1800 as a septet for clarinet, horn, bassoon and strings. The instrumentation was innovative for the time as was the prominent role given to the clarinet, equal to that of the violin. The overall form resembles a serenade; music for a large ensemble with multiple movements.
It was one of Beethoven's most successful and popular works and circulated in many editions and arrangements. In 1803 Beethoven himself arranged the work as a trio for clarinet, cello and piano. In today's performance we will be playing three of the original six movements.
Mosulipe Blues or A Blues Endeavor for Classical Musicians is not jazz or the blues, but is jazz-like. The music serves two purposes. First, it is a way for classical musicians to play music that is not part of their usual style but without the need to be skilled in the art of jazz. Second, the music itself has a descriptive purpose. It is meant to evoke the sounds one would hear if he were walking down the street in an area with different jazz clubs. He might hear portions of different performances, sometimes alone and sometimes overlapping with each other. Our listener first hears an upbeat opening from a band. A few doors further he hears a lone pianist playing a tune, then a small combo playing a slow, quiet tune, with a steady drum beat. Suddenly he hears music that transports him into the swing era with dancing and a quick tempo. He listens for a few moments but then, unexpectedly, finds himself back in the first club where the band is just finishing its blues number. Perhaps he was always in the first club but his mind had wandered and inspired him to hear all the other music.
The unusual instrumentation of flute, clarinet, cello and piano is definitely not a combination normally found in jazz, let alone classical music, but it provides the opportunity to create different sounds and colors not usually heard in this music.
The Artists of Serio Divertimenti
Serio Divertimenti, roughly translated, means "serious fun." This chamber music ensemble "promotes new music as well as the more traditional classics." Its members have impressive careers of performance in the concert hall, in the theater and in the recording studio, and as educators on campus and in the media. Broadway and pop music fans will also find many recognizable names in the list of talented artists these musicians have worked with.
Flutist Lisa Arkis enjoys a varied career encompassing orchestral playing, chamber music, solo performances, and teaching. Orchestras she has performed with include the New Jersey Symphony, Orchestra of St. Luke's, Princeton Camerata, Greenwich Symphony, Fairfield Symphony, New Haven Symphony, Berkshire Bach Society at Tanglewood and Hudson Valley Philharmonic. She has participated in numerous summer festivals including Tanglewood, Colorado Music Festival, Loon Lake Live!, Washington Square Park Festival and as a featured soloist with the New York Bach Ensemble. Lisa has also recorded with the Bright Leaf Trio on the Sonic Muse label, twice toured Japan, was guest principal flutist with the Bermuda Bach Festival, and performs regularly on the Music at St. Mary's chamber music series in New York.
Ms. Arkis' Broadway credits include Peter Pan, Secret Garden, Miss Saigon, Flower Drum Song and Dance of the Vampires and she has also played with the Radio City Christmas Spectacular both in New York and on tour. A graduate of the Aaron Copland School of Music, Lisa was a student of the late Thomas Nyfenger. Other teachers include Harold Bennett, Trudy Kane, Keith Underwood and Bernard Goldberg. An adjunct faculty member of the Manhattan School of Music Precollege division from 2001-2004, Lisa has also taught at Brooklyn College and the Dalton School, and maintains private teaching studios in New York and Connecticut.
Monte Morgenstern, clarinet, has been a freelance musician in the New York City area for many years. He has performed with a variety of musical ensembles including the Orchestra of St. Lukes, New York City Ballet, Royal Ballet, Broadway musicals, the Bronx Arts Ensemble, Columbia Festival Orchestra, Greenwich Symphony, Springfield Symphony, the Washington Square Music Festival and many others. He has been principal clarinetist of the Northeastern Pennsylvania Philharmonic, Julius Grossman Orchestra and, since the early 1970s, the Bronx Opera. His concerto performances have been with The Bronx Symphony, Bronx Chamber Orchestra and the Julius Grossman Orchestra. Performances with well known solo artists range from Leonard Rose, Jean Pierre Rampal, and Leontyne Price to James Taylor and Benny Goodman.
Monte's activities as a composer and arranger include works for wind instruments and other combinations, including many trios for clarinet, cello and piano. The premiere of his New Orleans Trio (for Oboe, Clarinet and Bassoon), took place in October 2005 at a benefit concert in Teaneck, NJ for the victims of the Gulf Coast Hurricanes of 2005. In the fall of 2008 Mr. Morgenstern received a commission from the Teaneck Creek Conservancy with support from the Bergen County Division of Cultural Affairs for The Flight of the Monarch Butterfly which was premiered by Englewinds in its tenth anniversary concert in Teaneck and later at Trinity Church in New York City.
Monte has recorded for the Angel/EMI, Music Masters, Elektra/Nonesuch, and Deutsche Grammophon labels with many notable musicians including André Previn, Julius Rudel, John Adams, Robert Craft, John Browning, Kathleen Battle and Dawn Upshaw. Included among these recordings is the Stravinsky series with the Orchestra of St. Lukes conducted by Robert Craft. Mr. Morgenstern is a graduate of the Manhattan School of Music.
Formerly the cellist of the Royale Trio and winner of the Manogue International and National Arts Club competitions, Peter Prosser has had a multifaceted career that has taken him throughout North America as well as South America and Europe. A graduate of the University of Alabama and the Manhattan School of Music he has worked as a soloist, chamber musician, teacher, record producer and conductor. Highlights include recording the Saint-Saëns, Lalo and Dvorak concerti for Alabama Public Television, the Haydn D major Concerto for Kentucky Educational Television, producing CDs for the Paragon Ragtime Orchestra, making his Broadway conducting debut in 2003 with the production of Gypsy starring Bernadette Peters, and conducting the Paragon Ragtime Orchestra at the Centennial Gala for the Philadelphia Orchestra. He has also conducted on the American Mosaic series at Concordia College, at the Alabama Summer Music Center, and served as the associate conductor for the National Tour of Stephen Sondheim's Into the Woods starring Cleo Laine, as assistant conductor for the Broadway revival of La Cage Aux Folles and the 2008 revival of Gypsy with Patti Lupone and was most recently an assistant conductor and principal cellist for the 2009 revival of West Side Story and principal cello for Hugh Jackman, Back on Broadway.
Other forays into pop culture have found him working with Willie Nelson, Chris Botti, with Robert Plant and Jimmy Page of Led Zeppelin, Charlie Watts of the Rolling Stones, appearing as solo cellist with Shirley Bassey at Carnegie Hall, at Town Hall with the late Nancy LaMott, and with Bernadette Peters at Avery Fisher Hall. Other recordings include contemporary solo cello works by Robert Dix and Joseph Levin, blues with Eric Clapton and B.B.King,, and a Christmas album, Animal's Christmas with Art Garfunkel and Amy Grant. Radio and television appearances include The Listening Room and Young Artist Showcase on WQXR (New York), Around New York on WNYC, West Coast Weekend on KQED (San Francisco), the Today show with Bernadette Peters, The View and Good Morning America with Patti LuPone, the Today show (weekend edition) with Eartha Kitt, Saturday Night Live, and Late Night with Jimmy Fallon.
Having joined the faculty of the Mannes College of Music in 1991, he has also been a performance associate at Hunter College, has served as adjunct faculty at City College and has taught at the Aspen Music Festival and the Meadowmount School of Music. His teachers include David Cowley, Bernard Greenhouse, Alan Harris and William Pleeth. Peter is also inordinately fond of eating breakfast out.
Mary Jo Pagano received her Bachelor of Music degree from Arizona State University as a student of James Ruccolo and Eugene Pridonoff. She earned the Master of Music degree from the Manhattan School of Music as a student of Constance Keene. In 1996, she completed her Doctorate of Musical Arts at Manhattan School of Music as a scholarship student of Leon Fleisher. She has performed in master classes for such great artists as John Browning, Menachem Pressler, William Pleeth, and Andre Watts.
Mary Jo is on the piano faculty of Third Street Music School Settlement in New York's Lower East Side. She is also the Director of the Chamber Music Program. She conducts master classes and leads a seminar on practicing called "Those Six Days Between." Because she believes strongly in what Third Street stands for, she wrote her doctoral dissertation on The History of the Third Street Music School Settlement – 1894-1984.
Ms. Pagano is an enthusiastic chamber musician. She has been a member of the Esterhazy Trio, Polaris Ensemble and LES Chamber Ensemble. She toured the U.S. under the auspices of Columbia Artists Management with the Royale Trio. She mostly enjoys playing chamber music in concert with a variety of musicians. She has studied chamber music with Artur Balsam, William Pleeth, Leslie Parnas, and Roman Totenberg.
Dr. Pagano has played concerts throughout the United States, including concerts at Weill Recital Hall, The Frick Collection, the Ravinia Festival, and The Beethoven Festival at Oyster Bay. Mary Jo has appeared as soloist with the Manhattan Symphony, the Nutley Symphony, the Butler Symphony, the Princeton Youth Orchestra, Albany Chamber Players, and the Musicians Band. Dr. Pagano can be seen as a performer and scholar on the PBS Educational Series Exploring a World of Music. This twelve-part educational world music series features her as the spokesperson for Western Classical music.