Concerts are held every 3rd Sunday, April through November and the 1st Sunday of December.
Due to ongoing COVID-19 concerns for the safety of our artists and concert patrons, and in compliance with restrictions on social activities, we anticipate additional concerts will be cancelled, but in the spirit of optimism we will wait to decide as the dates approach. Please return to this site for the most current information on our schedule.

Juilliard Jazz Ensemble
July 17, 2022 @ 3:00 pm

-

5:00 pm
The Music of Miles Davis
An outdoor concert at the Churchill Historic Park District158-170 W Main St., Stamford, New York 12167
RESERVATIONS RECOMMENDED as tent seating is limited; walk-ups will want to bring a lawn chair and arrive early to sign in.
E-mail: FOMAdmin@friendsmusic.org
Phone#: 518.918.8003
Masks & social distancing required.
Rain or shine (under a tent).
In-person donations welcome.
By donation. (Suggested Donation of $12 Adults / $6 Seniors)
Four of the most talented young jazz musicians in the world will celebrate the music of Miles Davis. The current lineup of the Juilliard Jazz Ensemble features Dave Baron (bass), David Neves (trumpet), Adam Birnbaum (piano), and Jimmy Macbride (drums). 
Manhattan's Juilliard School is widely regarded as one of the world's leading music schools. Juilliard Jazz, under the leadership of director Wynton Marsalis, offers bachelor's and master's degrees as well as artist diplomas. The department's programming reflects the jazz continuum and its American vernacular roots, as well as the social and cultural vitality of the music. Juilliard Jazz ensembles play more than 50 on- and off-campus performances annually, including international tours, as well as performances at Dizzy's Club Coca-Cola at Jazz at Lincoln Center and the Blue Note in New York City.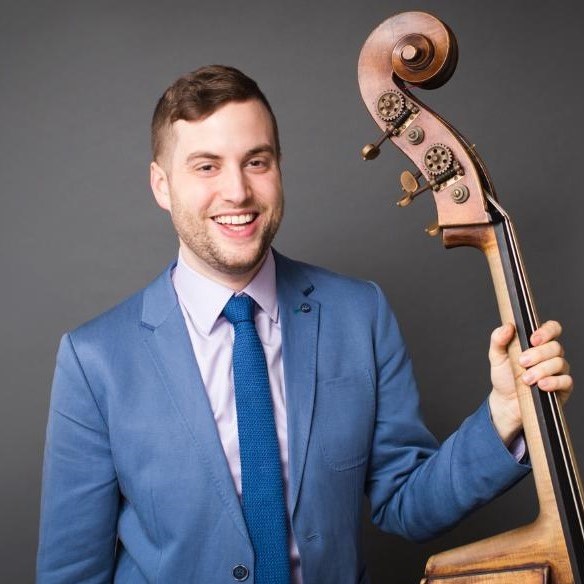 Everyone has a story to tell. Jazz bassist Dave Baron lets his instrument do the talking. He has demonstrated his skills supporting such jazz luminaries as Herbie Hancock, Eric Reed, Joe Lovano, Peter Bernstein, Joe Magnarelli, Benny Green, Jimmy Greene, Wycliffe Gordon, Walt Weiskopf, Lew Tabackin, Mary Stallings, and many others. In 2009, Baron was selected as one of fifteen semi-finalists from around the world for the Thelonious Monk International Jazz Bass Competition. As part of the competition, he performed at Baird Auditorium at the Smithsonian Museum of Natural History with drummer Carl Allen and pianist Geoff Keezer. In 2011, Baron won second place for the International Society of Bassists' Scott LaFaro Jazz Competition.
David holds a bachelor's degree in Jazz Studies and Contemporary Media
from the Eastman School of Music and a master's degree in Jazz Performance from the Juilliard School.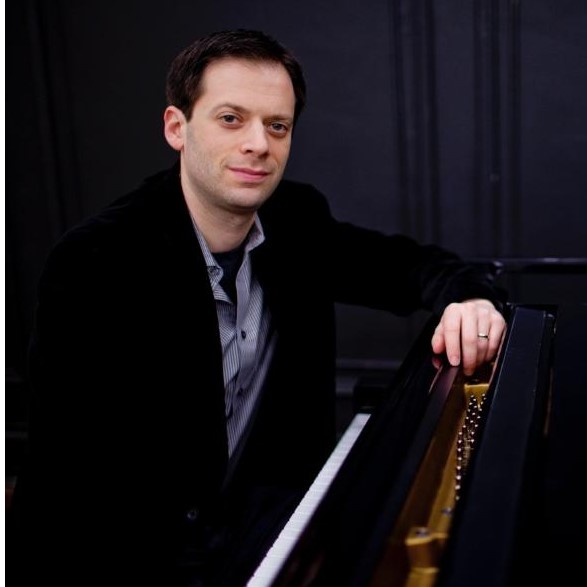 Adam Birnbaum is emerging as one of the top young voices in jazz piano. Since receiving a graduate Artist's Diploma in jazz studies from The Julliard School in 2003, he has become a presence on the New York City scene as a leader and sideman, performing in such venues as the Village Vanguard, the Blue Note, Birdland, the Jazz Standard and Dizzy's Club Coca-Cola. He has also performed on many national and world stages, including the Gilmore International Keyboard Festival, the Kennedy Center, the Montreal Jazz Festival, The Spoleto Festival, The Red Sea Jazz Festival, The Rockport Chamber Festival, NPR Jazz Christmas, and the Capetown Jazz Festival.
As a leader, Birnbaum has released four albums under his name in Japan and the U.S. His first release, Ballade Pour Adeline, received a Gold Disk award from Swing Journal as one of the top albums of 2006. Adam's U.S. debut Travels, released in 2009 under the Smalls record label, received enthusiastic reviews in Allmusic.com, All About Jazz and JazzTimes. Birnbaum's recent release Three of A Mind, featuring bassist Doug Weiss and drummer Al Foster, was hailed as "an eloquent dispatch from the heart of the contemporary piano trio tradition" by the New York Times, and received an Editor's Pick and four star review in Downbeat magazine.
As a sideman, Birnbaum's wide-ranging versatility and artistry have made him a first call for a wide variety of ensembles. He is currently a member of the Al Foster Quartet, Darcy James Argue's Secret Society, and the Vanguard Jazz Orchestra.
Adam has also performed or toured with established jazz artists such as Greg Osby, Regina Carter, Cecile McLorin Salvant and Jazz at Lincoln Center with Wynton Marsalis.

Born and raised in Boston, Massachusetts, Birnbaum studied at the New
England Conservatory of Music before moving to New York City in 2001, one of two pianists selected to participate in the Julliard School's inaugural jazz studies program. In 2004 he won the American Jazz Piano Competition and became the American Pianists Association's Cole Porter Fellow in Jazz.
Adam Birnbaum is currently an Assistant Professor of Jazz at SUNY Purchase. He is also a Steinway Artist.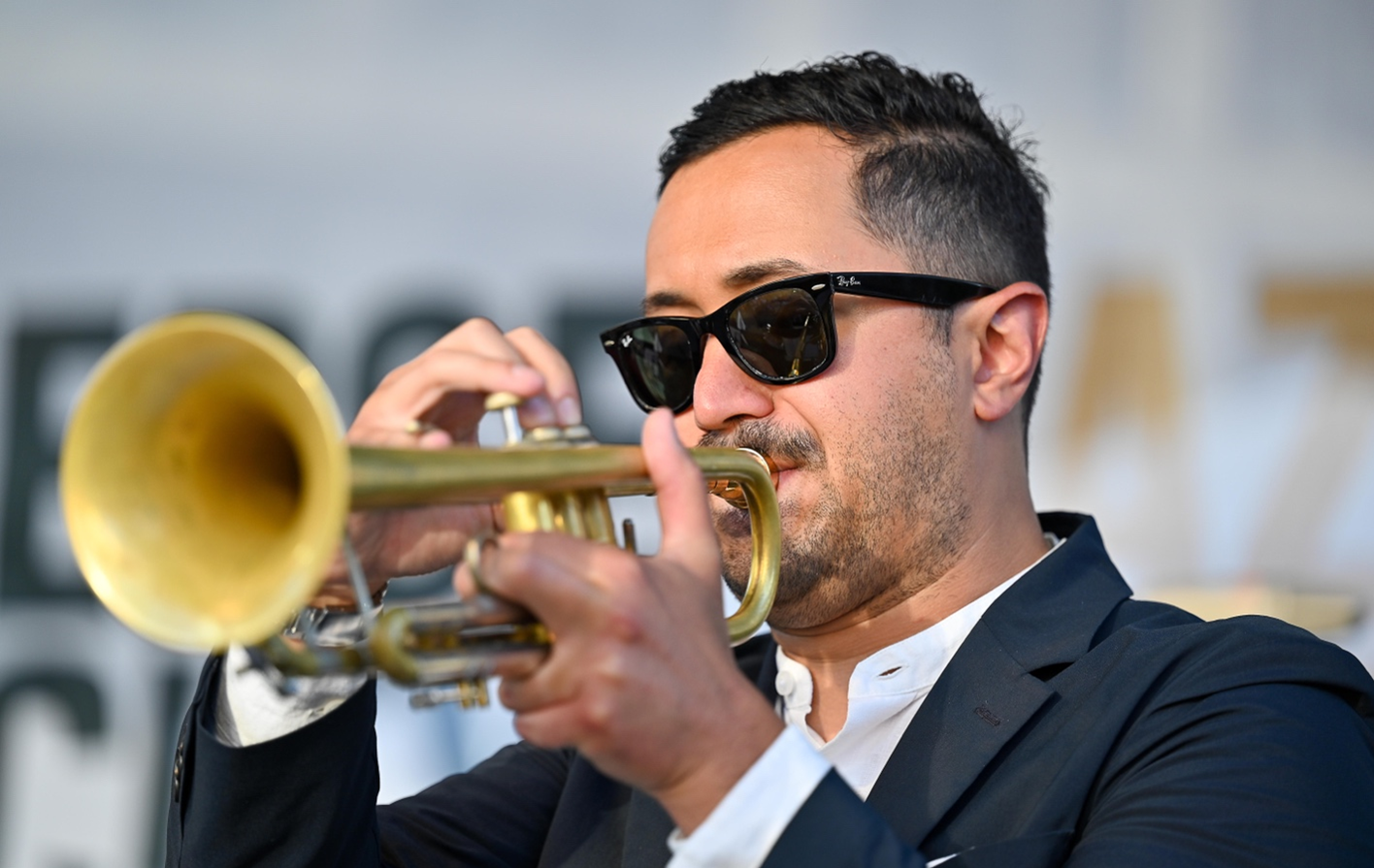 At 30 years old, David Neves is one of the most active and exciting trumpet players in New York City's music scene. A graduate of the Juilliard School, Neves has performed with some of musics most accomplished and well-known musicians in the world, including Wayne Shorter, Dave Liebman, Arturo O'Farrill, Ellis Marsalis, Randy Weston, among many others. David's talents have taken him all over the globe to venues such as the Tokyo Jazz Festival, the Fandango Fronterizo Festival in Tijuana, Mexico, Abu Dhabi, the Torino Jazz Festival, the Newport Jazz Festival, and the Panama Jazz Festival.
In February 2014, Neves independently released "Progress Report", his first full-length album as a leader and composer.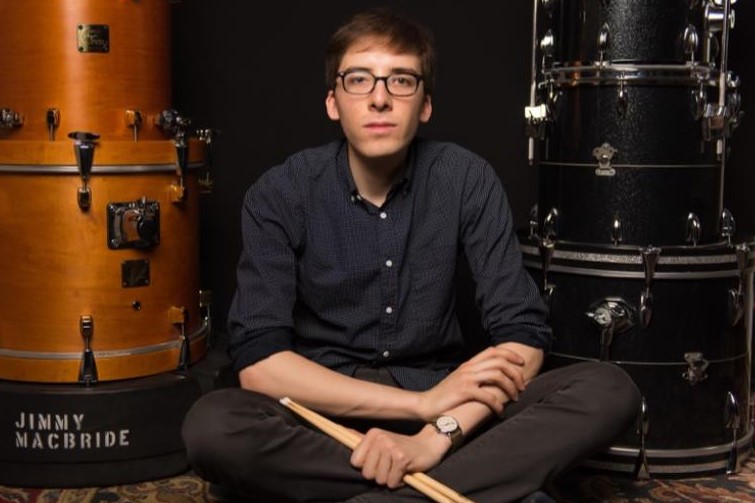 Jimmy Macbride is a drummer/composer based in New York City. He has performed with a wide variety of artists including Terence Blanchard, Kenny Barron, Jimmy Greene, and Adam Rogers.
Jimmy is a graduate of The Juilliard School, where he studied privately with Carl Allen, Billy Drummond and Kenny Washington. He is a regular performer throughout New York City, performing at such venues as Dizzy's Club Coca-Cola, Smalls, The Jazz Gallery, and The Blue Note. His musical talents have also taken him worldwide, touring across Europe, Asia, and North America. Jimmy has also appeared at some of the world's most famous venues, including the Monterey Jazz Festival, North Sea Jazz Festival, and Newport Jazz Festival, among others. He performs regularly with different groups and artists including Nir Felder, Eldar Djangirov,
Manuel Valera, Samuel Torres, Miki Yamanaka, Lucas Pino's Nonet, Troy Roberts, and the Roxy Coss Quintet. In addition, he can be seen playing with many of New York's most creative and forward-thinking artists, including Lage Lund, Ben Street, Kevin Hays, Fabian Almazan, Melissa Aldana, Matt Brewer, Michael Rodriguez, and Dayna Stephens, among many others. He is also an active recording artist, appearing on over 40 albums to date.