Concerts are held every 3rd Sunday, April through November and the 1st Sunday of December.
Due to ongoing COVID-19 concerns for the safety of our artists and concert patrons, and in compliance with restrictions on social activities, we anticipate additional concerts will be cancelled, but in the spirit of optimism we will wait to decide as the dates approach. Please return to this site for the most current information on our schedule.

Tesla Quartet & David Kaplan, piano: The Kreutzer Affair
June 19
@
3:00 pm
–
5:00 pm
RESERVATIONS REQUIRED as church seating is very limited
E-mail: FOMAdmin@friendsmusic.org
Phone#: 518.918.8003
Masks & social distancing required
By donation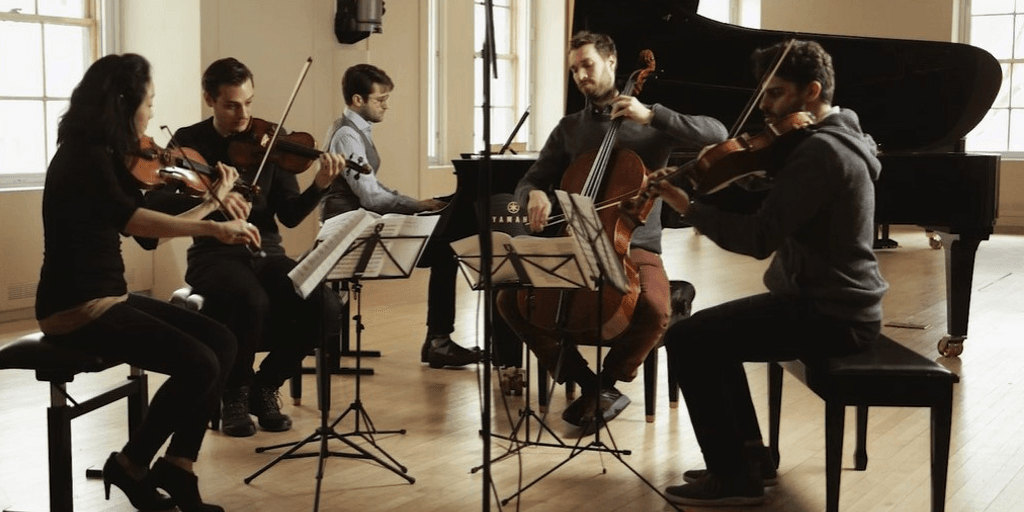 Beethoven – Violin Sonata No. 9 in A Major, Op. 47, "Kreutzer"
Janáček – String Quartet No. 1, "The Kreutzer Sonata"
– Intermission –
Dvořák – Piano Quintet in A Major, Op. 87

The Kreutzer Affair is an immersive theatrical concert program created by the Tesla Quartet with pianist David Kaplan, exploring how music was captured into words and then rebottled into music again.
The program's point of inspiration is the Violin Sonata No. 9 in A Major by Ludwig van Beethoven, known simply as the "Kreutzer" Sonata. The piece is fiery and transcendent, written "in the style of a concerto," and brought controversy almost from its inception. Originally written in 1803 for the renowned violinist George Bridgetower, Beethoven rescinded his dedication after a drunken argument and gave the honor instead to Rodolphe Kreutzer. Never mind that the great violinist despised and refused to play the piece—it would thereafter be known by his name.
Fast forward a century later, and the towering Russian writer Leo Tolstoy writes a controversial novella eponymous with the violin sonata, in which the music serves as a vehicle for both its plot and its message. The emotional and physical violence of the story bristles, and the story was immediately banned when published in 1889.
Finally, we arrive at Leoš Janáček, the poignant and visionary Czech composer, whose First String Quartet recaptures Tolstoy's searing narrative into the form of music, masterfully rendering the passion, contradiction, and tragedy of the novella.
In a continuous seventy minute performance, the Tesla Quartet and David Kaplan interweave the three movements of Beethoven's Violin Sonata and Janáček's String Quartet No. 1 with dramatic excerpts from Tolstoy's novella, recited by the musicians themselves.
After intermission, the quartet and pianist join for a musical palette cleanser: Dvořák's beloved Piano Quintet in A Major, a piece that fuses German musical form with Czech spirit and language.

David Kaplan is managed by Blu Ocean Arts.