Concerts are held every 3rd Sunday, April through November and the 1st Sunday of December.
Due to ongoing COVID-19 concerns for the safety of our artists and concert patrons, and in compliance with restrictions on social activities, we anticipate additional concerts will be cancelled, but in the spirit of optimism we will wait to decide as the dates approach. Please return to this site for the most current information on our schedule.

Telegraph Quartet
April 16 @ 3:00 pm

-

5:00 pm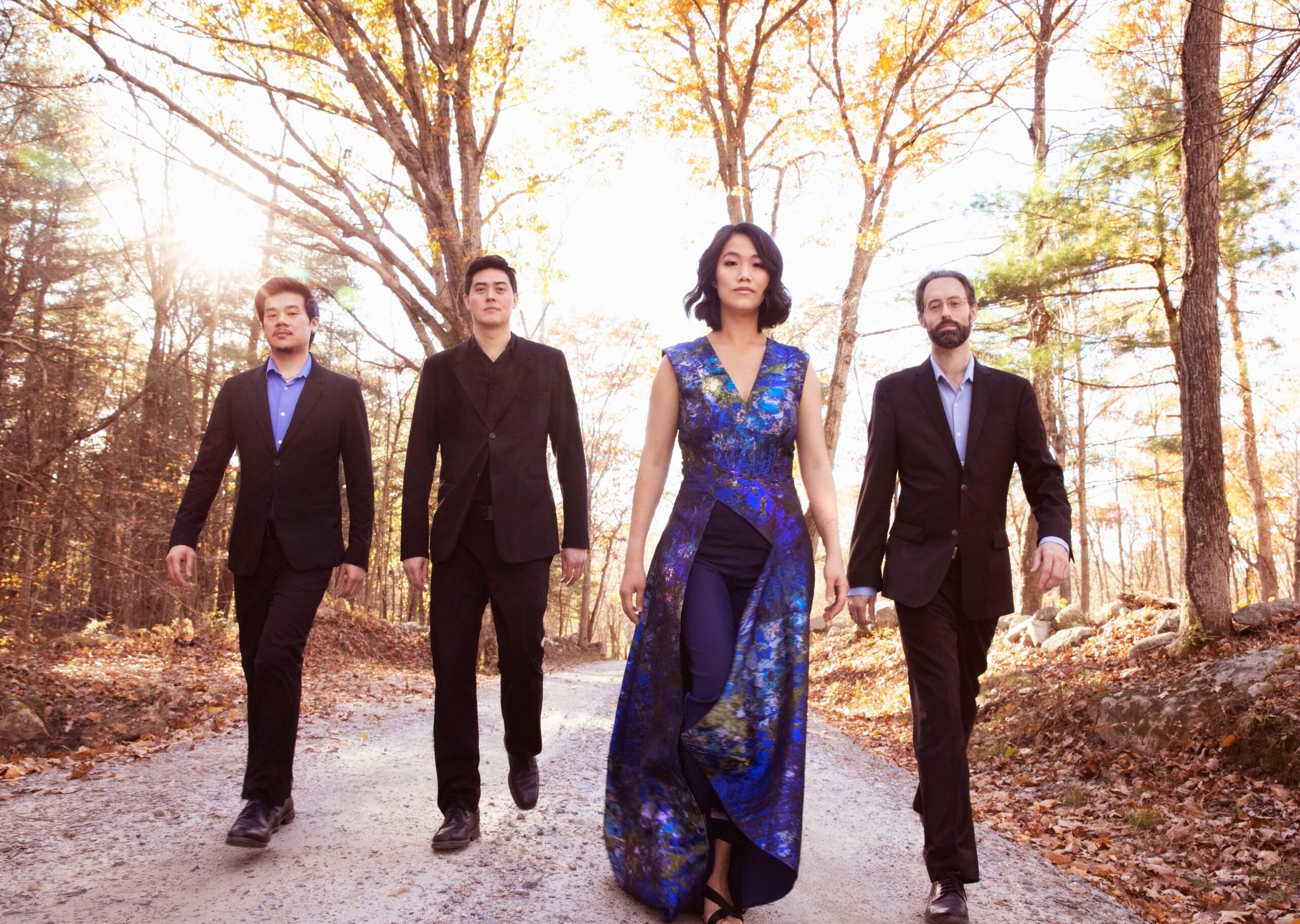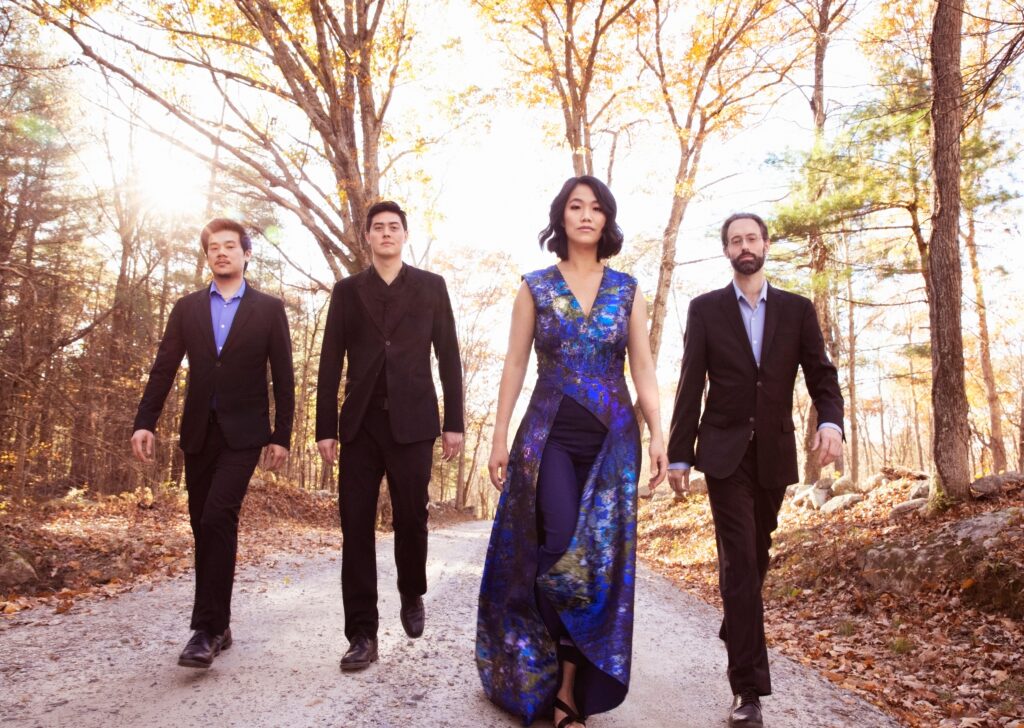 Sunday, April 16, 2023 at 3pm
NEW LOCATION: First Presbyterian Church, 96 Main St., Stamford, NY
RESERVATIONS RECOMMENDED as seating is limited; walk-ups welcome, space permitting
E-mail: FOMAdmin@friendsmusic.org
Phone#: 518.918.8003
Suggested Donation of $12 Adults / $6 Seniors.
For their Friends of Music program,
Telegraph Quartet Presented by Friends of Music Stamford
For this concert, the Telegraph Quartet will perform a selection of works spanning three centuries, including Joseph Haydn's String Quartet in F-major, Opus 50, No. 5 (1787); Ludwig van Beethoven's String Quartet No. 10 in Eb Major, Op. 74, "Harp" (1809); and Gabriela Lena Frank's Leyendas: An Andean Walkabout, (2001).
"Telegraph Quartet's rhythmic acuity, rapid tempos and intense lyricism is stunning." – Audiophile Audition
Eric Chin, violin
Joseph Maile, violin
Pei-Ling Lin, viola
Jeremiah Shaw, cello

"It's always a pleasure for us to return to the East Coast and bring a little bit of West Coast 'weather' with us, this time from composer and Berkeley native Gabriella Lena Frank. Flanking Gabriella's brightly colored quartet, are two Viennese mainstays, both written in the musical language of the High Classical style but with very different intents. Haydn bumbles around, playing pranks here and there in his Op. 50 No. 5 and happening upon passing moments of bliss. On the surface, Beethoven's "Harp" quartet seems to follow much in the same clear-browed style of most balmy quartets of this time, but it belies the coming tempest and profundity of the two middle movements, and sweet off-kilter resolution of its graceful finale."

About the Music:
Currently serving as Composer-in-Residence with the Philadelphia Orchestra and included in the Washington Post's list of the most significant women composers in history in 2017, identity has always been at the center of composer/pianist Gabriela Lena Frank's music. Born in Berkeley, California to a mother of mixed Peruvian/Chinese ancestry and a father of Lithuanian/Jewish descent, Gabriela explores
her multicultural heritage through her compositions. Inspired by the works of Bela Bartók and Alberto Ginastera, she has traveled extensively throughout South America in creative exploration. Of the string quartet that the Telegraph will perform she writes, "Leyendas: An Andean Walkabout draws inspiration from the idea of mestizaje, as envisioned by Peruvian writer José María Arguedas, where cultures can
coexist without the subjugation of one by the other. As such, this piece mixes elements from the western classical and Andean folk music traditions." The strings invoke the colors and playing styles of traditional Andean instruments, including the panpipe, tarka, guitar-like charango, and the quena flute.

Beethoven's String Quartet No. 10 in Eb Major, Op. 74, "Harp" is a highly expressive work. The quartet's instrumental nickname is derived from the poised pizzicato heard in the first of the four movements. From there, the music gives rise to a range of moods that Beethoven conveys through a blending of compositional forms, decisive shifts in dynamics, and his delicate guidance of each movement's overall
emotional direction.

Haydn's String Quartet in F-major, Opus 50, No. 5 presents defined shifts in tonality and form –– a quality that distinguishes the music from its predecessor, String Quartet in F-Sharp minor Op. 50 No. 4. Motifs are introduced and established before the music moves on, steadily developing new ideas among the parts in a clearer and more linear fashion. Themes are revisited through recapitulation but the connections and evolutions between existing musical ideas and subsequent expansions thereof in the music, are easier to appreciate in this piece.

More about the Telegraph Quartet: Described by the San Francisco Chronicle as "…an incredibly valuable addition to the cultural landscape" and "powerfully adept… with a combination of brilliance and subtlety," the Telegraph Quartet was awarded the prestigious 2016 Walter W. Naumburg Chamber Music Award and the Grand Prize at the 2014 Fischoff Chamber Music Competition. The Quartet has performed in concert halls, music festivals, and academic institutions across the United States and abroad, including New York City's Carnegie Hall and Lincoln Center, San Francisco's Herbst Theatre, the San Francisco Conservatory of Music's Chamber Masters Series, and at festivals including the Chautauqua Institute, Kneisel Hall Chamber Music Festival, and the Emilia Romagna Festival. The Quartet is currently on the chamber music faculty at the San Francisco Conservatory of Music as the Quartet-in-Residence. Notable collaborations include projects with pianists Leon Fleisher and Simone Dinnerstein; cellists Norman Fischer and Bonnie Hampton; violinist Ian Swensen; composer-vocalist Theo Bleckmann; and the Henschel Quartett. A fervent champion of 20th- and 21st-century repertoire, the Telegraph Quartet has premiered works by John Harbison, Robert Sirota, and Richard Festinger. In 2018 the Quartet released its debut album, Into the Light, featuring works by Anton Webern, Benjamin Britten, and Leon Kirchner on the Centaur label. The San Francisco Chronicle praised the album, saying, "Just five years after forming, the Bay Area's Telegraph Quartet has established itself as an ensemble of
serious depth and versatility, and the group's terrific debut recording only serves to reinforce that judgment." AllMusic acclaimed, "An impressive beginning for an adventurous group, this 2018 release puts the Telegraph Quartet on the map." In spring 2023, the Telegraph Quartet will release its next album on Azica Records, featuring Ravel's renowned quartet and Schoenberg's first quartet.

Highlights of Telegraph Quartet's 2022-23 season include performances presented by Stanford Live, The Argyros, Emerald City Music, UCLA's Chamber Music at the Clark, Chicago Chamber Music Society, Carmel Music Society, South Mountain Concerts, and many others, as well as a residency at the University of Idaho as part of the Auditorium Chamber Music Series. Telegraph will also perform
residency concerts at the San Francisco Conservatory of Music. For more information, visit
www.telegraphquartet.com.