Concerts are held every 3rd Sunday, April through November and the 1st Sunday of December.
Due to ongoing COVID-19 concerns for the safety of our artists and concert patrons, and in compliance with restrictions on social activities, we anticipate additional concerts will be cancelled, but in the spirit of optimism we will wait to decide as the dates approach. Please return to this site for the most current information on our schedule.

Boyd Meets Girl (Free Concert)
December 5, 2021 @ 3:00 pm

-

5:00 pm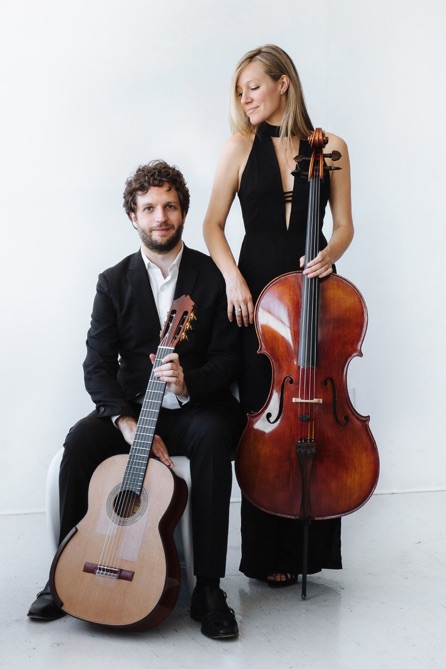 RESERVATIONS REQUIRED as church seating is limited
E-mail: FOMAdmin@friendsmusic.org
Phone#: 518.918.8003
Masks & social distancing required
Last minute change in performers!
Unfortunately, Empire Wild is not able to perform this weekend, but we've found an amazing last-minute substitution.

Boyd Meets Girl pairs Australian classical guitarist Rupert Boyd with American cellist Laura Metcalf. The duo performs an eclectic and engaging range of repertoire, from Bach to Beyoncé. Both acclaimed soloists in their own right, Boyd has been described as "truly evocative" by The Washington Post, and as "a player who deserves to be heard" by Classical Guitar Magazine, while Metcalf, also a member of the ensembles Sybarite5 and Break of Reality, has been called "brilliant" by Gramophone. 

(They will announce their program from the stage.)
"Remember the name Rupert Boyd. While there may never be another classical guitarist like Segovia, this young Australian left his audience with the impression that someday there may not be the likes of him again, either." 
Boyd Meets Girl has toured throughout the USA, India, Nepal, New Zealand, and every state and territory in Australia.
Boyd Meets Girl's debut album, released on the Grammy award-winning label Sono Luminous, reached #3 on the Billboard Traditional Classical chart, and received the following review in Gramophone: "They play like one, with a harmony of purpose as sure as their intonation." The album has received over a million streams on Spotify, and has been broadcast on radio stations around the world, including New York's WQXR and SiriusXM, and was selected as "Album of the Week" on California's KDFC and Australia's ABC Classic.
Rupert Boyd gave his Carnegie Hall debut as part of the D'Addario Music Foundation's "International Competition Winners in Concert" Series, and has performed at the Newport Music Festival, National Gallery of Art (D.C.), Music in the Strathmore Mansion, Marlow Guitar Series, Grand Canyon Guitar Society, Boston Guitar Society, University of Denver, University of Hawaii, and has given concerts in the U.K., France, Spain, New Zealand, India, Nepal and the Philippines. In New York, Rupert Boyd has performed at the Metropolitan Museum of Art, New York City Classical Guitar Society, Merkin Concert Hall, Trinity Wall Street, Bargemusic, (Le) Poisson Rouge, SubCulture, and with a diversity of groups such as New York Festival of Song and Moving Theater Dance Company.
Rupert Boyd has released three solo recordings: The Guitar (Sono Luminus) was described by This Is Classical Guitar as "a must-have album of 2019", and received the following praise in The Weekend Australian: "Instantly one's ears are pricked up by Boyd's interpretive directness and a sparkling technique"; Fantasías (Little Mystery Records) was selected by American Record Guide as "Critic's Choice" of 2016, and was described by Classical Guitar Magazine as "a triumph of brilliant assured playing"; Boyd's debut recording Valses Poéticos received the following review in Soundboard, the Guitar Foundation of America's quarterly publication: "Boyd's playing is beautifully refined, with gorgeous tone… musically and technically flawless… the album is first-rate." Soundboard also described the eponymous work by Granados as "one of the best recorded performances of this work on guitar."
Cellist Laura Metcalf, renowned worldwide as a passionate solo and chamber musician, has been acclaimed for her "brilliant" playing (Gramophone Magazine) and described as "a cellist whose passion for music is as evident as her artistry and talent" (I care if you listen). She has performed throughout the US and on six continents, including South Africa, Nepal, Argentina, Qatar, Mongolia, India, Japan, Korea, New Zealand, Kazakhstan, and Australia. Laura's debut solo album on the Grammy-winning label Sono Luminus, reached #7 on the Billboard Charts, and was called "a way forward for classical music" by AllMusic.
As a sought-after chamber musician and collaborator, Laura is drawn to projects that push boundaries and expand the definition of classical chamber music. Laura is the cellist of groundbreaking string quintet Sybarite5, which was the first-ever string quintet to win the Concert Artists Guild competition, reached #1 on the Billboard Classical Charts, and has toured extensively for over a decade, performing in Carnegie Hall, Lincoln Center, Library of Congress, and countless other major venues. 
Artistic directors of the acclaimed Sunday morning concert series GatherNYC, and a happily married couple, the duo lives in New York City with their son Milo.