Concerts are held every 3rd Sunday, April through November and the 1st Sunday of December.
Due to ongoing COVID-19 concerns for the safety of our artists and concert patrons, and in compliance with restrictions on social activities, we anticipate additional concerts will be cancelled, but in the spirit of optimism we will wait to decide as the dates approach. Please return to this site for the most current information on our schedule.

Euclid Quartet & Adrian Daurov, cello
May 15, 2022 @ 3:00 pm

-

5:00 pm
Debussy, Schubert
RESERVATIONS REQUIRED as church seating is very limited
E-mail: FOMAdmin@friendsmusic.org
Phone#: 518.918.8003
Masks & social distancing required
By donation
The EUCLID QUARTET enjoys one of the most highly regarded reputations of any chamber ensemble of its generation, with its members' constituting a multinational mix: violinist Jameson Cooper (Great Britain), violist Luis Enrique Vargas (Venezuela), violinist Aviva Hakanoglu (United States), and cellist Chris Wild (Canad). Captivating audiences and critics ranging from Carnegie Hall to school classrooms to radio and television broadcasts, the quartet consistently performs to enthusiastic acclaim throughout the country.
Formed in Ohio in 1998, the Euclid Quartet takes its name from the famous Euclid Avenue in Cleveland, home to a wealth of renowned artistic and cultural institutions. Within three years, the ensemble was awarded the String Quartet Fellowship of the Aspen Music Festival, where it was invited to return for the subsequent summer's concert season. The quartet was also invited to study with the Emerson String Quartet at the Carnegie Hall Professional Training Workshop.
Highlights of the Euclid Quartet's career include significant global recognition as the first American string quartet to be awarded a top prize at the prestigious Osaka International Chamber Music Competition. Prior to its Japanese laurels, the quartet also won awards in numerous United States competitions, including the Hugo Kauder International Competition for String Quartets, The Carmel Chamber Music Competition and the Chamber Music Yellow Springs Competition. In 2009, the Euclid Quartet was awarded the esteemed "American Masterpieces" grant from the National Endowment for the Arts.
The Euclid is a frequent guest ensemble at American and Canadian music festivals, among them the Aspen, Mostly Modern, Great Lakes, Kent/Blossom and Orford festivals, while expanded programs have included collaborations with internationally renowned artists, including James Dunham, Gregory Fulkerson, Warren Jones, Paul Katz, Joseph Silverstein and Alexander Toradze.
In 2007, the Euclid Quartet was appointed to the prestigious string quartet residency at Indiana University South Bend, where its members teach private lessons and coach chamber music. Passionately devoted to presenting the highest quality chamber music to young audiences, these seasoned teaching artists have performed for thousands of students and young adults, in part through support from the National Endowment for the Arts and collaborations with Carnegie Hall's Weill Music Institute and the Fischoff National Chamber Music Association.
Active in the recording studio, the Euclid Quartet issued, most recently, a disc of Dvorák and Winton Marsalis on Afinat Records. The Strad Magazine praised the new recording: "The members of the Euclid Quartet hurl themselves into the fray with alacrity, relishing the music's invention with contagious wit and virtuosity." Previous releases include the complete string quartets of Béla Bartók on Artek Recordings. The American Record Guide raved about these discs, "rarely has a group found such meaning and vision." Their debut CD, on Centaur records, features the first four quartets of Hugo Kauder, a refugee from Nazi-occupied Austria who fled to the United States in the 1940s. He defied the atonal trend of his generation with his uniquely harmonic, contrapuntal style.
www.euclidquartet.com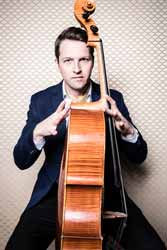 Cellist ADRIAN DAUROV is one of the most dazzling artists of his generation.
Adrian Daurov, at the age of 15, made his debut as soloist with the St. Petersburg State Symphony Orchestra. Subsequently, he earned top honors at three international competitions – Bulgaria's 1st International Music Competition "Coast of Hope" (First Prize, 1996); The Netherlands' Peter De Grote International Music Competition (Grand Prix, 2002); New York City's L.I.S.M.A. International Music Competition (First Prize, 2004). In 2004, he toured as soloist with the St. Petersburg Chamber Orchestra, performing in St. Petersburg, Moscow, Warsaw and throughout Germany, and was appointed to the dual position of principal cellist and soloist with the Bayreuth Youth Festival Orchestra, under the baton of Peter Gulke. 2008 heard him as a featured participant in a gala Carnegie Hall concert celebrating Russia's Independence Day, a program that included the distinguished Russian singers Yelena Obratztsova and Vladimir Galouzine.
After studying at the St. Petersburg Conservatory, Adrian Daurov was awarded the Jerome L. Greene Scholarship for advanced studies at The Juilliard School with renowned cello pedagogues André Emelianoff and David Soyer, where he completed his Bachelor's and Master's degrees. While still in school, he was appointed principal cellist of The Chamber Orchestra of New York, a position he still holds. Mr. Daurov has also collaborated in chamber music programs with pianist Alexander Ghindin, violinist Mark Peskanov and flutist Eugenia Zukerman. Recent seasons have included debuts with the Dayton and Massapequa philharmonic orchestras, the symphony orchestras of Altoona, Bozeman, Glacier, Kalamazoo, Longmont, Longwood, Ridgefield, Westerville and Wyoming, and the Chamber Orchestra of New York (at Carnegie Hall). In 2012, he teamed up with the award-winning pianist Spencer Myer to form the Daurov/Myer Duo.
Passionately devoted to the music of our own time, Adrian Daurov has already presented the world premieres of two important works – In 2008, Fountains of Fin for flute, violin and cello by the Persian composer Behzad Ranjbaran and, in 2009, The Epistle – Concerto for Cello & Chamber Choir by the Siberian composer Yuri Yukechev, written for Mr. Daurov and the Russian Chamber Chorus of New York, Nikolai Kachanov, Artistic Director.
Adrian Daurov's artistry has been heard on several radio and television stations, including WNYC, WQXR and NTV-America. He is also featured on a recent album by the young New York City-based jazz star Romain Collin.
Adrian Daurov performs on a magnificent 1989 cello crafted by John Terry in Florence, Italy.